'With performance you get perfection'
Auto Servicing &
Body Repair Centre


WE HAD THE PRIVILEGE OF RESTORING A BUMPER FROM MARCUS GRONHOLM'S PEUGEOT 206 WRC. THE BUMPER WAS FROM THE CAR THAT HE DROVE IN 2002 ON THE BRITISH ROUND OF THE WORLD RALLY CHAMPIONSHIP. MARCUS WAS ALREADY CROWNED WORLD RALLY CHAMPION AND DIDN'T NEED THE POINTS BUT THIS DIDN'T STOP HIM AND HE WAS OVER
1 MINUTE IN FRONT OF THE FIELD. AFTER TAKING A CORNER A LITTLE FAST AND HAVING A DIFF PROBLEM THE CAR HIT A GRASS BANK AND WENT INTO A SERIES OF ROLLS UNTIL IT EVENTUALLY STOPPED, THE CAR ABOVE IS WHAT WAS LEFT.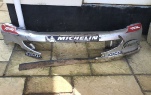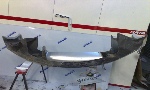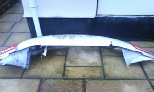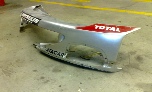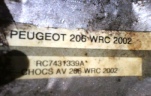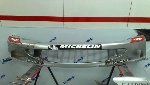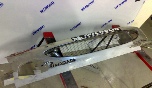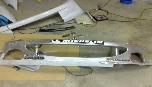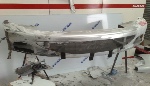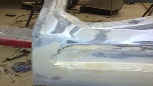 6 YEARS ON AND THE BUMPER GETS ITS OVERHAUL WITH 3 AIMS IN MIND THE FIRST ONE WAS TO BRING THIS BUMPER BACK TO LIFE AND HAVE IT JUST LIKE IT WAS IN 2002 WHEN IT WAS ON THE START LINE OF WALES RALLY GB .
THE BUMPER WAS REBUILT BY TAKING MOULDS FROM THE GOOD SIDE OF THE BUMPER AND REVERSING THE MOULDS TO FIT THE DESTROYED SIDE. DOING THIS IS THE ONLY WAY OF REPAIRING THE BUMPER AND GETTING THE SIZES RIGHT. ALL OF THE VENT PARTS IN THE BACK OF THE BUMPER WERE MISSING SO NOT A LOT TO WORK WITH BUT WE MANAGED TO GET THE EXACT SIZES THROUGH A SPECIALIST SOURCE.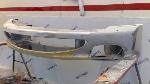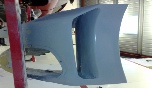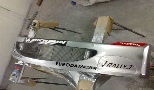 THE BUMPER IS BUILT IN A LIGHT BUT STRONG CARBON FIBRE COMPOSITE AND WAS REPAIRED USING THIS SAME METHOD .EVERY DETAIL HAS BEEN PUT BACK INTO THE BUMPER AND EVEN THE VINYL LETTERING WAS RE MADE TO THE EXACT SIZE AND TEXT FONT.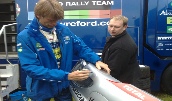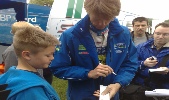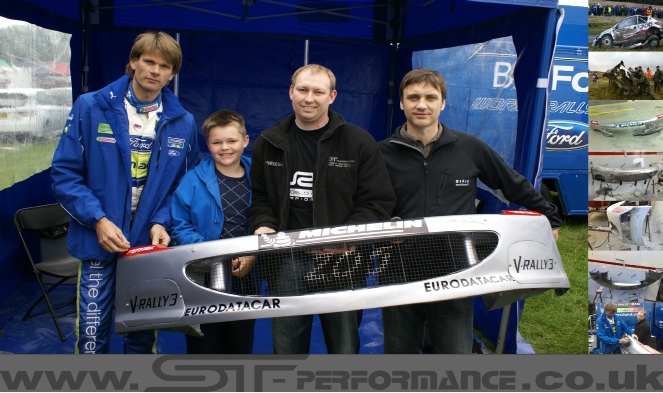 THE SECOND AIM FOR THIS PROJECT WAS TO MEET MARCUS GRONHOLM AT THE CHATSWORTH RALLY SHOW ON THE 15TH JUNE 08 TO GET HIM TO SIGN IT. THIS ALL WENT TO PLAN AND THE BUMPER WAS JUST FINISHED IN TIME, ONLY FINISHING IT 1 DAY BEFORE THE SHOW STARTED. WE SPOKE WITH MARCUS AND SHOWED HIM THE BUMPER PLUS SHOWED HIM PHOTOS OF THE PROJECT FROM START TO FINISH. IT WAS NICE TO HAVE PUT ALL THAT HARD WORK IN TO RESTORING IT TO HEAR MARCUS REMEMBERING THE CAR HE ROLLED AND SAYING HOW GOOD HE THOUGHT THE RESTORATION WAS.
THE 3rd AIM IS TO BUILD A 206 WRC 4 X 4 REPLICA. THIS WILL BE BUILT USING GENUINE PEUGEOT SPORT PARTS AND
450-500 BHP COSWORTH RUNNING GEAR THIS IS IN PROGRESS NOW AND CAN BE LOOKED AT BY CLICKING HERE
PHOTOS OF THE FINISHED BUMPER AND MARCUS SIGNING THE BUMPER
All contents are property of ST Performance Ltd 2018 ©